Toying Around Reviews - Spider-Man Homecoming Pint Size Heroes
Spider-Man Homecoming
Pint Size Heroes
Today we will be taking a look at the Spider-Man Homecoming Pint Size Heroes two pack with mystery figure from Funko. As to not spoil the mystery figure for anyone pictures of the figure will be put below the Toying Around segment.
Pint Size Heroes are as according to Funko - Created with Funko's signature flair for designing charming stylized vinyl, we've taken our favorite parts of Pop! and Dorbz and made them into an even smaller package – and all at a new low price!
So lets check out these new Pint Size Heroes!
Packaging:
Before we open this up, let's take a look at the packaging.
The front of the box has the Pint Size Heroes logo as well as the Spider-Man Homecoming logos at the top of the box. Right below them the Spider-Man and Iron Man figures are clearly displayed with the Mystery figure in the middle covered as not to spoil who it is.
The side of the box has some artwork on the side that is to look like the Stark-Tech suit Spider-Man wears in the movie.
The back of the box has the Pint Size Heroes logo with a picture of Spider-Man himself.
The other side of the box has the same Stark-Tech artwork as the other side has.
Outside of the Box:
Let's open the box and take a closer look at them.
At first look you notice the lenses on Spider-Man and how the stick out from the rest of the body. You also notice the shiny paint that they used on Iron Man.
Every detail on the body of the figure is painted on. Funko did a very good job at this.
Articulation:
How can we pose them? Let's find out!
The heads of the pint size heroes are on a mushroom peg and therefor can be turned around 360 degrees.
Size Comparison:
How does this figures size compare to others?
The Pint Size Heroes stand right around 1.5 inches tall.
For a size comparison we have Iron Man and Spider-Man standing with their Marvel Legends 6 inch counterparts.
Overall:
This little tow pack is fun, you get a couple little mini figures that you can display on your desk. Also like all Funko Pop type figures they are also great for collectors because the box is resealable if you want to keep them in box.
i picked Pint Size Hero pack up at my local Toys R Us!
Suggested Retail Cost: $9.99
Time For Some Toying Around: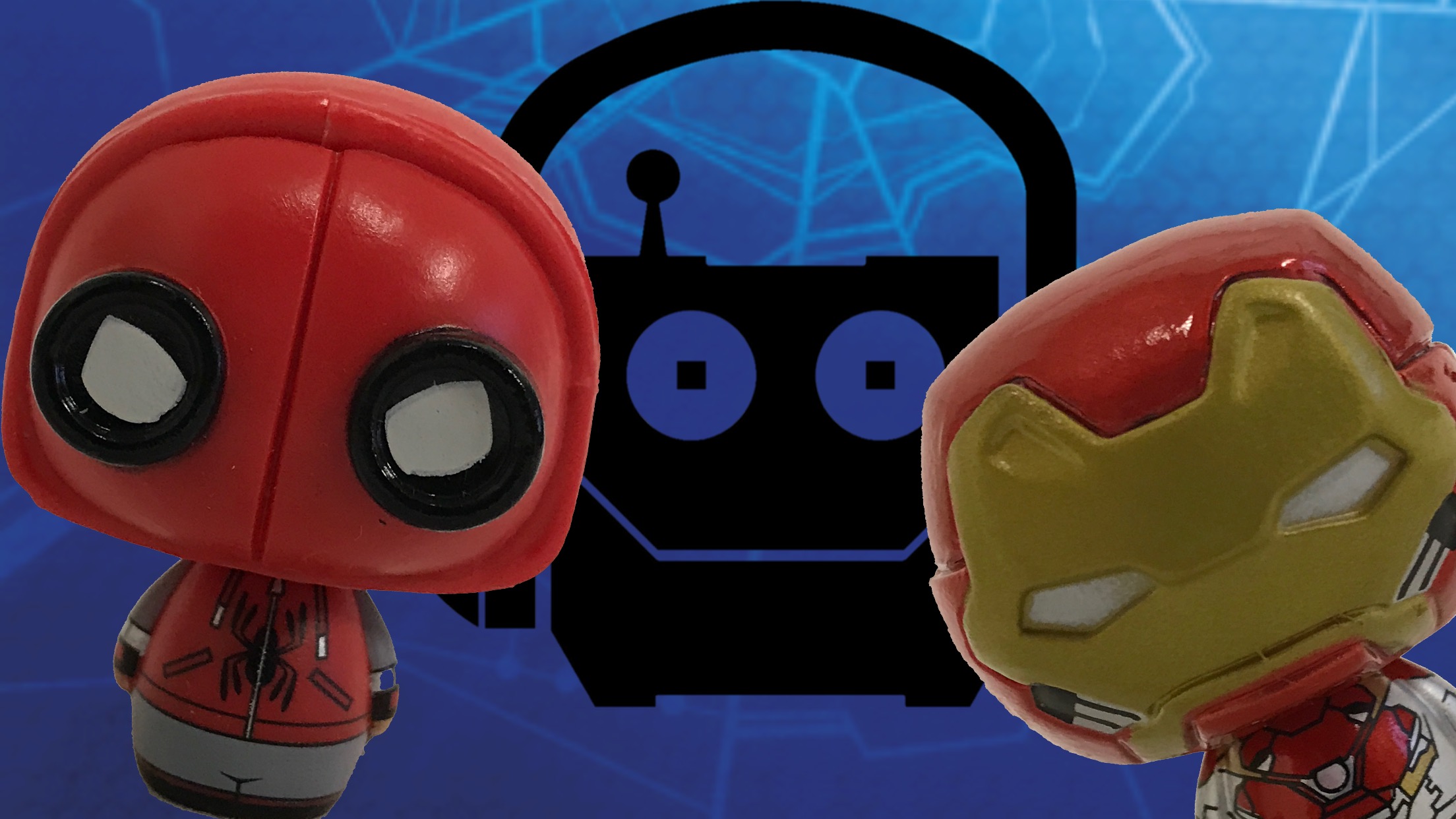 SPOILERS BELOW!!!!!
Below is the Mystery figure that comes in the box, proceed only if you want to know!
You have been warned!
.
.
.
.
.
Its Peter Parker in his school sweatshirt.